Trending...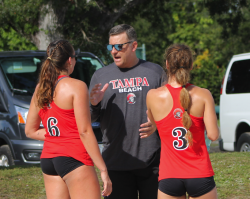 Sports Edge Athletics has officially announced that Chris Hamilton will join the organization as Director of Beach Volleyball Training and Co-Director of the Club.
ST. JOHNS, Fla.
-
iSportsWire
-- Hamilton comes to
Sports Edge
with years of experience and beach volleyball knowledge, both on and off the sand. Hamilton brings a proven structure from his time as the club director and head coach at Premier Beach Volleyball Club in Tampa, FL. Along with 24 years of competing in the open division across the country, Hamilton was the Florida Region of USA Volleyball Beach High-Performance Director and Coach from 2015-2018. He has also served as a court coach for the USA Volleyball High-Performance tryouts from 2015-2017. Hamilton was also instrumental in developing high school beach volleyball and getting the program sanctioned by the Sunshine State Athletic Conference. Hamilton has personally had a hand in placing athletes in college beach programs such as Southern California (USC), UCLA, Florida Atlantic (FAU), Tulane, Stetson, North Florida (UNF), Southeastern Louisiana University, Florida International (FIU), Florida State (FSU), Eckerd, State College of Florida and St Leo Grand Canyon University. Hamilton also served as a Volunteer Coach at Stetson University in 2019 and is currently a Volunteer Coach at the University of Tampa. Chris Hamilton is USAV Beach IMPACT, BCAP I, and Safe Sport certified.
More on iSports Wire
"I'm extremely honored and excited for this opportunity," said Hamilton. "Sports Edge is bringing beach volleyball to the next level in North Florida, and I am ready to lay a foundation of excellence at this important time for our club and athletes. I look forward to implementing advanced training techniques and having our Sports Edge beach volleyball players compete at the highest levels."
Lisa Davis, CEO of Sports Edge said, "The leadership and program development of current Co-Director Daniel Magnusson has created a strong foundation for our beach volleyball program. Under his guidance, our program has experienced rapid growth and he knew it was time to search for an additional member to add to his team, and Chris Hamilton was the number one name on his list. Our program and athletes will benefit from Hamilton's expertise and outstanding reputation within the beach volleyball community. It was important to select someone who aligned with our mission statement of Be the Best, and for beach volleyball, Chris Hamilton is the best. His passion and record speak for themselves."
More on iSports Wire
Hamilton will provide guidance, oversight, and innovation to the program that currently includes elite and club-level competitive teams, training programs, advanced skills training, camps, and early elementary developmental programs.
Source: Sports Edge
---
0 Comments